Cloud Video Security
Cloud Video Security without the hassle
Is your CCTV video security still stuck in the past?

It doesn't have to be. Ditch your NVR/DVR and simplify your workplace security with Verkada's cloud video security solution.
Limitlessly smart, scalable and simple to use, Verkada's cloud video security is perfect for all organisations.

Healthcare – HIPAA Compliant
Banks – PCI Compliant
Education
Retail
Restaurants
Government
Business
Prosum has partnered with Verkada to help organizations move away from outdated and complex traditional CCTV and/or access control.
Verkada combines on-site hardware with an all-in-one hosted software platform to provide you with a real-time view into every part of your organization.
Designed with simplicity in mind, Verkada is virtually effortless to install, maintain, and manage. Backed by an industry-leading 10-year warranty, Verkada empowers your organization with the latest security technology without the worry of management overhead or unpredictable costs over time.
What makes verkada special?

Monitor Anywhere
Access footage from any computer or mobile device – no downloads required.

Automatic Updates
Automatic firmware updates keep camera up-to-date and cyber-secure.

Camera Health & Status
Always know the health and status of your cameras, including offline alerts.

Smart, Instant Alerts
Receive a notification when a camera detects meaningful motion or tampering.

Simple to setup
No NVRs/DVRs, thick clients or added configurations – just a PoE connection.

Share feeds instantly
In an emergency situation, easily share links of live footage via SMS or email.
Full range of options
Verkada offers a wide range of enterprise security cameras, including durable indoor and outdoor domes, discreet minis, and panoramic fisheyes.
All cameras include powerful onboard processing to analyze footage at the edge, streamlining the process to provide users with near-instant results when filtering through footage for meaningful activity.

Verkada Dome Cameras
Wide range of models for indoor and outdoor video security.
Highly durable, vandal resistant form factor.
High-resolution image quality up to ultra-HD 4K.
Indoor models with IK08 rating.
Outdoor models with IP67 and IK10 rating.
Edge-based processing for motion, people and vehicle analytics.
Low-bandwidth impact, only using 20-50 Kbps per camera at rest.
Cameras with up to 365 days of onboard storage.

Verkada Mini Dome Cameras
Discreet, small form factor for indoor coverage.
High-resolution image quality with options for 5MP and 4K.
Up to 365 days of onboard video retention.
Powerful edge-based processing for motion/tamper detection and People Analytics.
Low-bandwidth impact, only using 5-20 Kbps per camera at rest.

Verkada Bullet Cameras
Available in wide lens and telephoto lens options.
Highly durable and built to withstand the toughest environments.
Each camera features a sealed aluminum housing, ensuring cameras stay protected with IK10 vandal resistance and IP67-rated weatherproof ratings.
High-resolution image quality up to ultra-HD 4K.
Up to 365 days of onboard storage.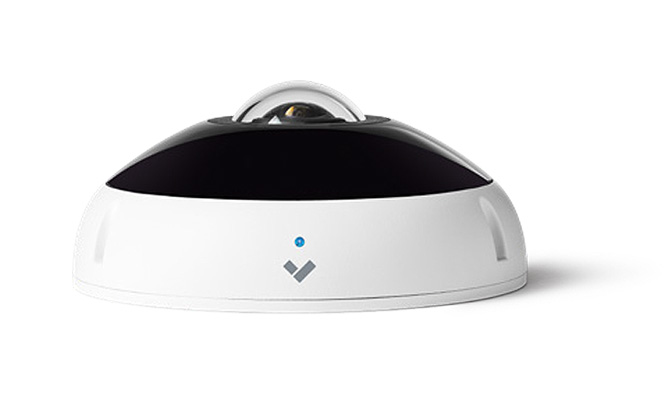 Verkada Fisheye Cameras
180° of panoramic views from all angles.
High-resolution image quality with 12MP.
Up to 90 days of onboard video retention.
Can be mounted inside or outside.
Low-bandwidth impact, only using 5-20 Kbps per camera at rest
All cameras include smart edge-based analytics, Industry-leading 10-year warranty, automatic firmware & software updates & unlimited cloud archiving